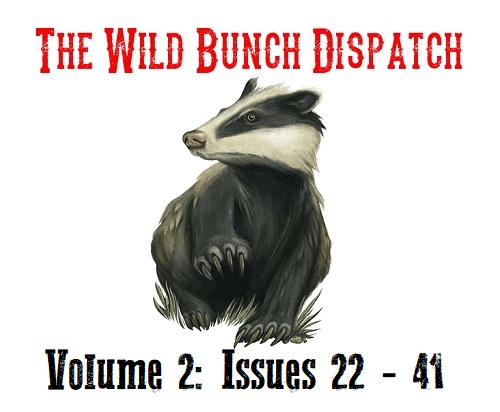 It's hard to believe the Wild Bunch newsletter is already closing in on 70 issues. I have been very happy to share the preparedness and tactical knowledge I have gained over the past couple of decades and the feedback from readers has been great so far.
There are many people that missed out on the early editions of the Dispatch, so I have compiled back Issues 22-41 of my newsletter into a single PDF volume for the convenience of new readers and those who are interested in getting taste of what the Wild Bunch is all about. The Wild Bunch Dispatch is Alt-Market's exclusive newsletter covering concepts and tactics for defeating globalism. It is a place to explore subjects and solutions to centralized tyranny which are rarely if ever covered by the rest of the alternative media. Meaning, we talk about direct action measures along with more passive strategies.
For those that are interested in Volume 1 (Issues 1-21) or Volume 2 (Issues 22-41), they can be purchased for $40 each by visiting the Donation/Purchase page HERE. Please be sure to specify in the notes which volumes you want sent to you.
The list of issues for Volume 2 includes:
Issue #22: How To Prepare For A Global Pandemic
Issue #23: The Invisible Castle – Setting Up Defenses For Your Neighborhood Or
Town
Issue#24: Global Supply Chain Collapse – Preps You Should Stockpile Right Now
Issue #25: Economic Collapse: Top Ten Threats In The First Six Months
Issue #26: Martial Law And Medical Tyranny – How Should Liberty Activists
Respond?
Issue #27: Organizing A Barter Network During A Pandemic
Issue #28: Organizing Security During A Collapse
Issue #29: Food Shortages Are Coming – Here Is What You Should Expect
Issue #30: How To Defend Yourself From Forced Vaccination Programs
Issue #31: How To Defend Against Crowds, Mobs And Mass Looting
Issue #32: Collapse And Defense In Urban Environments
Issue #33: Chinese Invasion Of The US – A Hypothetical Study
Issue #34: What To Do If You Plan To Relocate During The Collapse
Issue #35: The Best Clothing For A Post Collapse World
Issue #36: Tips And Tricks For Tactical Comms During Collapse
Issue #37: Medical Preparedness During Societal Breakdown
Issue #38: The Stages Of Medical Tyranny And How To Fight Against Them
Issue #39: Hunting And Wilderness Survival During Collapse
Issue #40: What Will Happen After The 2020 Election?
Issue #41: How To Start Building A Small Survival Homestead
If you prefer to make a purchase by regular mail, you can send a check/money order made out to Brandon Smith to the following address:
421 US Highway 93N
Suite 209
Eureka, MT, 59917
For more information on how to get the latest issues of The Wild Bunch Dispatch, you can view the Newsletter Info Page HERE.